Cabins and Kiosks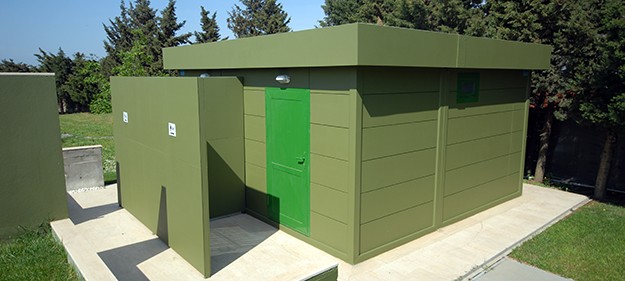 Cabins & Kiosks can be manufactured to be used as information units, guard cabin, telephone units, wc& shower units, taxi point ect. not only for remote sites and man camps but also in the heart of cities with appealing looks.
Intended Use
Information Units
Guard Cabin
WC&Shower Units
Taxi Points
Sales Office
Two different systems can be aplied for cabins & kiosks as Hekim Sandwich Panel System and Fibercement Covered special products.
Hekim Sandwich Panel Cabins
Sandwich Panel Cabins manufactured using as wall EPS insulated sandwich panels. One side is film coated painted galvanized steel sheet and the other side is PET (polyethylene terephthalate) or film coated painted galvanized steel covered.
Hekim Panel used these products responds to the needs and demands of our customers with the criteria of being environmentally friendly, superior quality, excellent insulation properties, faster production and more economical installation.
Fibercement Board Covered Cabins
Fibercement board covered products came out, by combining the environment friendly raw materials of 21st century technologies with the requirements of today's city planning. And along with its these features, it offers multifunctional solutions with its inside of small areas, and also with its external views, rich facade cladding options prepared by considering the current construction. By this way, the products are in a great harmony with the city's structural texture.
Products
Media Center