Sandwich Panel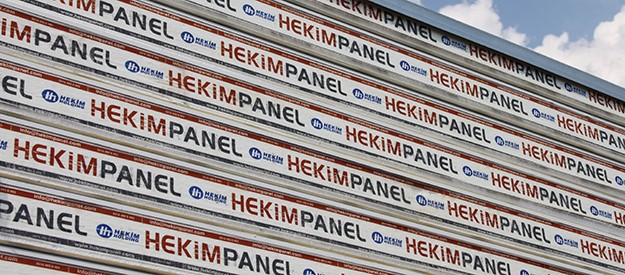 Annual capacity of panel production line is 2.000.000 m
2
. Roof panels and 3 different type ( H-system, hidden screw and tounge&groove system) wall panels are produced at the premises where panel production from 600mm to 1250mm width and 16.000mm lenght is possible.
Roof Panels
Roof panels are in two types in 3 and 5 pitches. Steel sheet thickness and thickness of roof panels varies between 0,35mm – 1,00mm and 40mm -120mm respectively. Various colour options, EPS and rockwool insuation materials are available as an option. Roof panels with steel sheet exterior and PET (polyethylene terephthalate) interior surface is a good solution for the roof of closed areas where there are abrasive gases. Membrane roofing panel is another option for especially 7% inclined roof system. . In this panel produced with 5 pitches, the pitched part is painted galvanized steel sheet and other surface consists of PVC membrane with thickness of 1,2 mm.
Facade panels
Sandwich panels for facades are in 3 main groups consisting of panel with hidden screws, cold-room type facade panel and H type facade panel. The thickness of steel sheet and color options in these panels are the same as the roofing panels. The thickness of insulation starts from 50 mm in facade panels with hidden screws and 40 mm in cold room and H type facade panels and reaches a thickness of 120 mm in all panel types. Striped, Z and plain patterns are available as surface appearances available. The product which distinguishes us in sandwich panel sector is our facade panels with steel sheet exterior and fibercement interior. Fibercement board with thickness of 6-8 or 10 mm are used as interior surface element of these panels. A reliable choice of solution is presented to sheep and goat breeding and cattle raising sector with this special product which is both affordable and durable to acidic environments arising from animal waste.

Products
Media Center