Home
Prefabricated Buildings
Prefabricated Buildings

Piraziz has significant experience and knowledge designing, engineering and manufacturing temporary or permanent camp site accommodation (man camps) and multipurpose buildings with the destination region in mind. We have provided buildings for more than 60 countries worldwide and has a 60,000 m2 monthly capacity. Our products use high-quality galvanised lightweight steel profiles, and utilise unwelded structure technology (UST), an advanced building technique. All of the materials used are TSE certified and most of them are ISO 9001 certified. The raw materials used comply TSE and DIN norms.
Our prefabricated buildings come in a wide variety of standard layouts, and we can also create custom structures to your requirements The structures can be one storey as well as being produced in two or three storeys. The greatest advantage of prefabricated light constructions mounted on the ready-prepared concrete floor is being earthquake-resistant and light weight.The short manufacturing period, being easily mountable and having the feature to dismount and mount over and over again increase the reasons of preference for prefabricated structures.
HEKIMBOARD brand, cellulose fiber reinforced, cement and silica based, autoclaved fibercement boards are used as cladding materials on interior, exterior, roof and floor covering materials of buildings. It is not effected by temprature flactuantions and climate conditions due to its production process. A1 Class (EN 13501-1, CE certicated) fire resistant material fibercement is especially prefered for the projects in which fire resistancy prioritised.
The materials are packaged in accordance to the international packaging and transportation(truck, ship, train or aircraft Cargo) rules for overseas productions.
Intended Use
Prefabricated Office Buildings
Prefabricated Dormitory Buildings
Prefabricated Restaurant Buildings
Prefabricated Social Complex
Prefabricated Showroom and Sales Office
Prefabricated School Buildings
Prefabricated Health Facilities
Prefabricated Military Buildings
Prefabricated Emergency Establishments
Prefabricated Site Buildings
Prefabricated WC&Shower Buildings
Hekim Sandwich Panel System
The wall and roof panels used in this production system are manufactured in our own integrated plant. Our panels produced in Hekim Panel brand bring extra comfort and strength to the buildings with their superior technical specifications. Static calculations for each building are performed by taking snow and wind loads proper to climate conditions as a basis. Our buildings constructed by using this production system are designed as one or two storeys. Electrical and sanitary installation applications are mostly detailed as surface mounted. A-1 class noncombustible fibercement material is mostly used on the exterior. Exquisite solutions are presented to the users with desired color and pattern properties.
Our sandwich panels, 1250×2500 mm being the standard type, which can be produced in 1250×3000 mm/ 1250×3500 mm and various other sizes are easily used in all kinds of our prefabricated construction applications. Our product which distinguishes us from the others in this system where different panel types take place are our wall panels with their exterior painted galvanized steel plate and its interior fibercement board. It is detailed as absolately noncombustible sandwich panels with EPS/rockwool insulating material placed inside. Metal plate +EPS/rockwool+, fibercement+EPS+fiber cement board kinds are also available.
Roof truss used in our building production is specially designed by HekimTruss technology and enduring to extra static loads due to its special cross-sectional detail.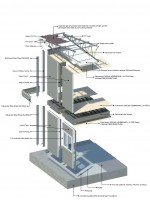 Hekim Sandwich Panel System
Hekim Light Weight Steel Panel System
In this system which is produced by using high standard galvanized construction steel with weldless construction technology one, two and three storey buildings can be built. Human errors are minimized by means of prefabrications realized in factory environment and on robot lines. The walls, frame, roof, truss and other construction components regarding the building whose designing is carried out in project process are erected by means of profiles manufactured on Hekim StructureROBOT machinery lines bonded by bolts and nuts. The sizes of Hekim Steel Carcassed Panel can be 1250×2500/3000/3500 mm. Painted galvanized steel sheet or fibercement is used on the interior and exterior surfacing of the panels. The heat insulation of the building is provided by EPS, glass wool or rockwool insulation materials according to our customer's request.
A-1 class noncombustible fiber cement material is also used on steel carcass surfacing, if requested.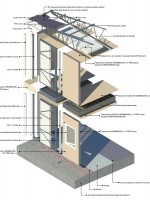 Hekim Light Weight Steel Panel System
Hekim Site-erected Light Weight Steel System
Light steel construction technology is a production system where building elements are produced from galvanized steel with cold forming process. The building details whose structurel design is realized are conveyed to the machine and formed on the specially designed Hekim Structure Robot lines.
The walls, frame, roof, truss and other construction components are erected by means of profiles manufactured on Hekim StructureROBOT machinery lines bonded by bolts and nuts in the system where steel carcass designs exclusive to the geography in which the project application is performed. After the mounting of the carcass system realized at the construction site, the insulation details of light steel construction whose production is realized in our integrated plant with Hekimpor Technology and surface siding mounting by Fibercement Technology branded as Turksiding and Hekimboard which is fully produced by natural materials and eco-friendly, A-1 class noncombustible, durable to all kinds of climate conditions and with suchlike superior specifications are performed.
The most significant advantages of this system are as follows:
Long-lasting, durable and secure.
Provides high sound, heat and water insulation.
Construction system whose prefabrication is carried out at the factory, provides capability for faultless and fast production.
Provides more efficient earthquake performance due to its flexibility and lightness.
Presents flexibility and elegant solutions in design.
Shortens construction period by virtue of its easy assembly.
Creates an opportunity for a cleaner construction site.
Constructions manufactured by galvanized steel are corrosion-resistant.
Eco-friendly.
Cost-effective
The standardization in the production system provides quality and stability in the prices of materials.
The construction materials have high recycling.
Products
Media Center